Annette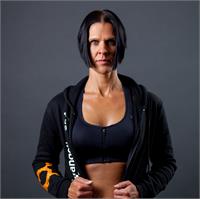 Annette was born in South Africa and attended Wichita State University (WSU) where she finished her 4 years of NCAA Division 1 eligibility playing tennis. It was during her graduate school years that she fell in love with fitness and wellness, and through various experiences in Campus Recreation realized that encouraging healthy exercise and proper nutrition changes lives! Annette is a certified personal trainer in Colorado Springs and is TRX certified. She is currently employed at UCCS as the Associate Director for Campus Recreation Programs, and worked at 3 Minnesota OTF studios as a group personal trainer prior to becoming part of the Orangetheory Fitness Colorado Springs team. "What an amazing privilege it's been to be a part of such a special OTF community, and walk alongside many of our members' journeys! Such a privilege! I love to see members achieving their fitness goals, losing weight and becoming stronger with each class."
WHAT DO YOU BURN FOR?
For my kids, so they can breed healthy habits early on
WHAT'S YOUR GUILTY PLEASURE?
Chocolate cake
WHAT'S YOUR FAVORITE OTF EXERCISE?
Plank Jacks
Annette instructs the following:
60 Minute Orange Theory Workout




The largest capacity workouts at OTF. 3 Groups training in all 3 areas of Treadmills, Rowers and Weight Room at the same time. The duration of the training blocks for each area will be varied.




A 2 or 3 group workout designed to train you in all 3 areas of treadmills, rowers and weight room with specifically timed blocks in each area, then switching in a counter clockwise "Tornado" direction. High energy, fun and intense!